10 Tips to Avoid Buying a Lemon Vehicle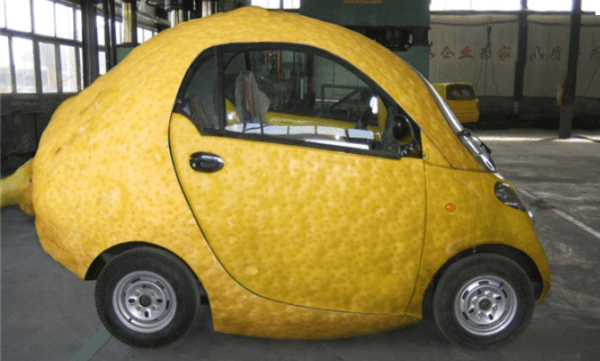 Tips to Avoid Buying a Lemon
When you were young, more than likely you probably remember your parents buying a new car. There was such excitement and enjoyment in the air! That shiny new mechanical object on four wheels made everyone in the family happy beyond measure. It brought promises of traveling great distances in quiet, serene comfort while the rest of the world would soon be passing by.
Unless, of course, the vehicle in question turned out to be a lemon. A "lemon" is a term car buyers use to describe a vehicle that after its purchase turns out to be so badly misrepresented that the buyer winds up paying significantly more than the lemon car is actually worth in order to repair it.
Why it's called a "lemon"?
There are several possible reasons the term 'lemon' is used when referring to an inferior product. According to The Online Etymology Dictionary, in early 20th Century American slang, a 'lemon' referred to "a person who is worthless, or a loser. The term "lemon" may also have originated from pool hall slang in Britain meaning "to pass off a sub-standard article (a "lemon car") as a good one." In any case, the term "lemon" stuck around all the way up until today when it is almost exclusively used to refer to a recently-purchased substandard car.
The Lemon Defects
In general, a lemon car has one or more defects that prevent it from being safely driven. Problems like a completely dead engine, faulty brakes, bad fuel economy or a broken transmission are all considered defects which could classify a car as a "lemon".
Today nearly everyone who is interested in buying a new or used car turns to the internet. People have become so used to using their thumbs to buy just about everything with a computer, so why should a car be any different?
Cars, however, are expensive propositions. Buying one based on what a seller wants you to know about it can easily lead to purchasing one that turns out to be a first-class lemon car.
How to Avoid Purchasing a Lemon Car
CARFAX is a great way to check the official vehicle history report of a new or used car. However, the vehicle's history doesn't show if the car has been wrecked, stolen or even if the speedometer has been rolled back. CARFAX can also often have inaccurate information or erroneous data.
Probably the best guide to help avoid buying a used lemon car is to consult the authoritative magazine Consumer Reports. CU is considered one of the most trusted sources regarding what you should avoid when purchasing a used car. Some of the tips they recommend are these:
Research Consumer Feedback
Check the reliability record by looking over Consume Reports list of the specific models that have held up over the years.
Check Disclosures/Fine Print
Check the window sticker. In Manitoba, all car dealers post pricing and information on each car's window. If the car has been bought back because of a lemon law buyback situation, manufacturers must divulge the car's status as a lemon law buyback.
The sticker may also indicate if the car was a manufacturer's buyback. This means the car was bought back to satisfy an unhappy customer, but a manufacturer buyback could also mean that the car is a lemon and should be avoided.
Check The Exterior
Walk around and look for dents, chipped paint, mismatched body parts, cracked windows or broken light housings. If you see gaps between the body panels, there could be repair work from an accident. Use a small magnet to check the steel frame and it will not stick where filler has been used to replace damage.
Check The Interior
Look for a sagging headliner, a cracked dashboard, missing handles, knobs or buttons. Frayed seat belts could be evidence of an accident and should be replaced.
Floor pedals or a sagging driver's seat could be signs of high mileage. An air bag warning light that doesn't go off can indicate that an air bag has previously deployed and possibly replaced improperly, or perhaps not replaced at all.
Check for water leaks and if there's any mold or mildew smell, water may have leaked into the area. Discolored carpeting, silt in the trunk or other areas, or an intermittent electrical problem could also indicate water or flood damage.
Check The Cars Engine
Battery, and radiator to make sure there's very little grease or corrosion. Hoses and belts should not be hard or overly worn. Wet spots might indicate oil or fluids leaking. And if any electrical wires have melted or if the firewall is blackened, there may have been an overheating problem or even a fire.
When the engine has cooled down, check all fluids to make sure they are filled up to the proper level, have no leaks, and look clean. Check the transmission dipstick and if the oil is not red or off-red, or smells burnt, there's probably been extensive wear and possible damage.
Check The Undercarrage
Check the tires tread wear indicator for excessive wear, if the tires are worn out know that purchasing new tires will be an added expense if you purchase this vehicle. Check the steering for any slack or extra "play", and push down hard on each fender to check the suspension. If the car rebounds softly once or twice, it's probably okay.
Check The Exhaust
If black smoke is coming out of the tailpipe, there could be a problem with the air filter or some other component. Blue smoke indicates oil burning and the engine may require extensive repairs.
Take It For a Test Drive
Drive the car. If the engine revs excessively before accelerating, it could mean a worn out clutch or damaged automatic transmission. Knocks and pings may indicate bad timing or overheating.
Check For Recalls
Check for any recalls. If any recall work has not been performed, it should be done as soon as possible.
Have it Inspected
Finally, have a qualified mechanic take a good, thorough look at the car. The technicians at Viking Motors are experts and can answer any questions you may have if you're choosing a vehicle from our wide inventory.
Purchase From A Reputable Source
Buying either a new car or one that's used vehicle is a daunting and expensive proposition. Car buyers today have more tools at their disposal than ever before to research and find exactly the new vehicle or used car they desire. But sometimes making a choice is safer and more realistic when you can trust experts like the team at Viking Motors. Our experts can make absolutely sure that your new or used car does not in any way, manner, shape or form, turn out to be a "lemon car". If your looking at selling your old vehicle or purchasing or leasing a new vehicle but might be scared its a lemon, contact us and we will help you through the process.