8 Reasons Why You Should Get a Truck Bed Liner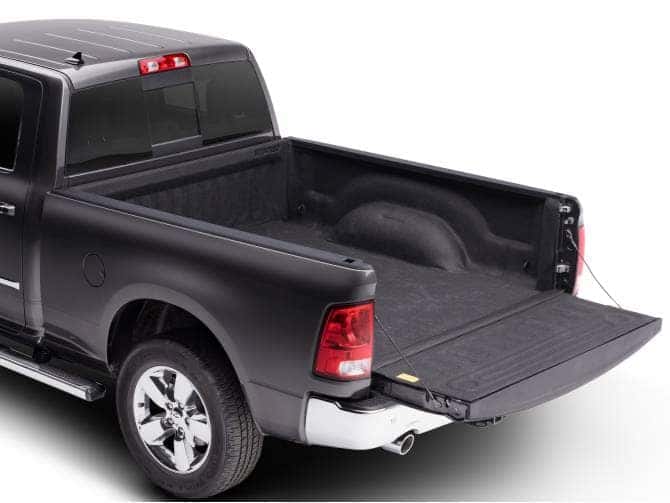 Reasons You Need a Truck Bed Liner
When you buy or lease your next vehicle or if you already own a truck, there's a good chance you've asked yourself at least once or twice about having a truck liner. A truck liner is one of the most common truck accessories and is usually considered one of the most valuable options to have.
You plan to have your pickup truck serve you through all sorts of projects in the future, both large and small. All that hard work is bound to do some damage to the bed that sits behind you as you drive the truck.
Practically everything you put into the bed of your pickup has the potential to scratch or dent the sides of your truck bed. From construction materials, furniture, and a dozen other things you may be hauling around, damage to your truck bed is inevitable. The good news is that most of those dents and scratches can be prevented with a proper truck bed liner.
Preventing damage, however, is not the only reason truck owners should consider a bed liner for your truck. Many bed liners can be repaired easily when it's damaged. The elastic properties of most liners allow them to be your first line of defense against scratches and dents. This is especially true when you're dealing with heavy loads. And, in almost all cases, a truck bed liner can also add to the resale value of your truck.
Types of truck bed liners
Manufacturers offer two basic types of truck bed liners; spray-on (or spray-in) and drop-in. Other aftermarket options are liners made from rubber or carpet. However, spray-on liners, are usually considered the best way to go for attractiveness and longevity.
Spray-on liners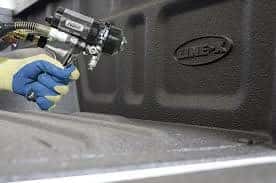 A spray-on liner is one made from a sprayable substance that adheres to the truck bed from an applicator. The result is an air-tight seal that doesn't allow water, dirt, sand, or other loose materials to make contact with the painted truck bed.
Spray-on liners are very effective in protecting your truck bed from rust, corrosion, scratches, dents, or other damage.
Drop-in liners
A drop-in bed liner is made from a for-fitted plastic sheet that's designed to be placed into your truck bed and then bolted into place. Because drop-in liners have gaps between the edges, the loose material can fall in between the gaps and the bolts can loosen over time. This allows the liner to shift position, be noisy, and eventually create maintenance work that you may not have planned for in the future. But drop-in liners do have an advantage of being less expensive than spray-on liners.

Other types of liners
Carpet liners are designed to be glued to the metal surface of your truck bed and create a semi-protective surface. This can be especially helpful in protecting delicate objects when they are transported in your truck's bed.
Rubber liners are also available, but they are not considered as effective as spray-on or hard plastic liners. As a last resort, you could make your bed liner out of wood or other materials that you might have on hand. These usually do not hold up as well as the others already mentioned, especially since they tend to rot over time as the result of damp weather.
Spray-on is the best
Making the right choice in buying a bed liner for your truck is very important, and spray-on liners are usually considered the best option. The person applying the application doesn't need to worry about fitting a pre-formed liner to fit exactly into the exact size of your truck bed. He only needs to spray it into the bed of the truck to cover the entire surface. This takes a lot less time and is easier for both you and the person applying the spray.
Spray-on liners also won't come dislodged or shift their position after something is placed into the truck bed. They will adhere to the actual metal and create a truly effective custom fit, water-tight seal. Drop-in liners can be damaged over time by cracking while carpet liners can tear and rip easily. In either case, moisture can get under the liner causing corrosion and rust after time. With a spray-on bed liner, the seal is completely air and water tight.
A spray-on liner is also tough and flexible and fits any truck bed size or shape. They also require a minimum of maintenance and can't dislodge over time.
Don't neglect your truck's bed
The beauty and functionality of having a truck bed liner is great news to anyone who plans to transport almost anything in the bed of their truck. Although lining your truck bed isn't an absolute necessity, neglecting it will eventually lead to costly repairs. Consider the scrapes and deep gouges that will damage the paint and surface of your truck's bed. Think about when the metal of your truck's bed is exposed to the elements; oxidation will set in quickly. This will lead to unsightly and damaging rust, costly repairs for leaks, holes, and weakened material.
The major advantages of a truck liner
In summary, a truck bed liner will give you eight major advantages:
Protects the bed from dents and scratches.
Spray-on liners can be easily repaired.
Protects the bed from rust and weather damage.
Keeps your cargo from sliding around and becoming damaged.
Liners act as a shock absorber to reduce damage from vibration.
A liner extends the life of your truck.
Liners beautify the appearance of your truck, and
Adds to the resale value of your truck.
The protective coating of a bed liner for your truck has all these advantages, can give you more peace of mind, and can save you money from expensive repair bills.
Viking Motors
Come by and check out our fleet of used and new cars and trucks for sale. Viking Motors is your premier source for both new and used vehicles from Chevrolet, Buick, and GMC. Whatever you're looking for in a top-quality new or used car or truck, our experts will be your guide in finding the right vehicle for you and your family.
Viking Motors proudly serves the Interlake and Manitoba Arborg, Gimili, Selkirk and greater Winnipeg. Our team has provided the area with the best in customer service and vehicles of top quality since 1958.
We not only sell, service and repair vehicles, but we create lasting friendships with our extensive customer base. Come in and discuss your vehicle needs today with a member of our friendly staff. We promise you'll be treated with the respect you need and deserve. Contact Us Today!