Silverado 1500 vs Silverado 2500HD – Learn the Differences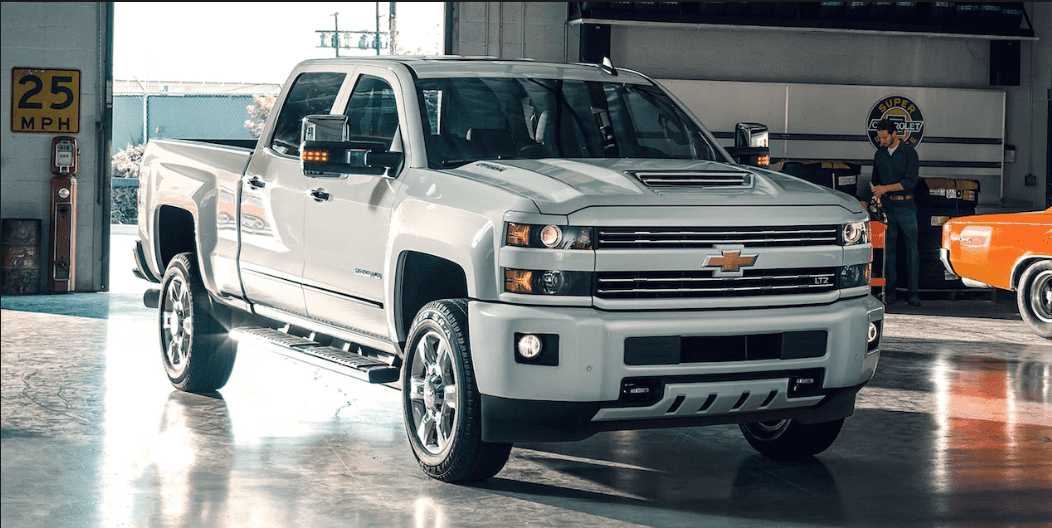 If you've already read our tips to purchase your next pickup truck and concluded a pickup truck is the right kind of vehicle for you, the next question is usually which one is best? That's a good question, but it's one you can't give a single answer to. What works great for one person might be a horrible fit for another. This is clearly demonstrated in the differences between the Chevrolet Silverado 1500 and Silverado 2500HD.
While at first glance it's easy to pick out some differences between the trucks, what really matter are the features you don't see immediately.
Dimensions
You'd probably expect there's a difference in size between these two trucks, and that's absolutely correct. This fact impacts maneuverability and where you can park the vehicle.
With he Silverado 1500 the dimensions vary depending on how the truck is configured. Length ranges from 231.7 to 241.21 inches, while the height is between 75.35 and 78.35 inches. The truck is 81.24 inches wide. Maximum bed volume comes in at 71.7 cubic feet.
Naturally, the Chevy Silverado 2500HD is larger. Its width measures 80.5 inches, or 95.9 inches with dual rear wheels. Height is between 77.9 and 78.8 inches, while the length is between 230 and 258.4 inches. Maximum bed volume is 76.3 cubic feet.
Performance
Working hard is one of the primary duties of a pickup truck. Just how hard you need yours to work depends on a few factors. Some people own a boat or horse trailer, so the maximum towing capacity is a must. Others often move big loads of landscaping pavers or ATVs in the bed, making payload capacity a critical component. Also, you need to take into account efficiency, since constantly stopping for fuel is expensive and inconvenient.
One big difference is the Chevy Silverado 1500 can be had with a 2.7-liter turbocharged engine. It puts on tap 310 horsepower and almost 350 lb.-ft. of torque. Plus, you get Active Fuel Management tech to really squeeze the most out of every gallon of gas. A 4.3l V6 with 285 horsepower, 305 lb.-ft. of torque, plus Active Fuel Management is also available. Offering even more power, the 5.3l V8 pushes 355 horsepower and 383 lb.-ft. of torque. You can get it with auto stop/start tech or Active Fuel Management. The most potent option for the Silverado 1500 is a 6.2l V8, which whips out 420 horsepower and 460 lb-ft of torque.
While the rest of the Silverado 1500's available engines run on gas, there is a 3.0-liter Duramax turbo-diesel engine which will be released later. It should boast excellent torque output and great fuel economy.
Different engine options are available for the Silverado 2500HD since it's a heavy-duty truck. A Vortec 6.0l V8 with variable valve timing produces 360 horsepower and 380 lb.-ft. of torque. For maximum towing and hauling capability, choose the Duramax 6.6l turbo-diesel V8. It puts on tap a mighty 910 lb.-ft. of torque, plus 445 horsepower.
While knowing about horsepower and torque ratings can help you make a decision, even more, important is actual hauling and towing performance. The Chevrolet Silverado 1500 can handle up to 2,285 pounds in the bed. The maximum conventional towing capacity of the truck is 12,200 pounds.
With the Silverado 2500HD, those figures jump dramatically to 3,276 pounds max payload rating and 13,000 pounds for the maximum conventional trailering capacity. That means if you need to haul or tow really heavy stuff, the Silverado 2500HD is the truck to choose.
Utility
Getting things done certainly is easier with a powerful engine, four-wheel drive, and so forth, but some utilitarian designs certainly help as well. Even the smallest of details make accomplishing everyday tasks, or even doing occasional things like towing or hauling really big loads, far easier and safer. You'll find quite a few utilitarian equipment on both trucks, which is partly why they're so popular.
Chevrolet offers the CornerStep rear bumper for the Silverado 1500 and 2500HD. The signature design puts a notch at each end, perfect for getting a secure foothold. That means you can access the bed easily without lowering the tailgate, which sometimes is absolutely necessary, like if you're hauling loose dirt or rocks.
Technology
Let's face it: trucks are no longer technologically-backward vehicles. They've become highly advanced machines capable of helping you in a who range of areas. For most shoppers, what kind of technology that's available makes a big impact on their purchasing decision, so it's good to know what differences are present between the Silverado 1500 and Silverado 2500HD.
You can upgrade either truck with a big 8.0-inch infotainment touchscreen. Chevrolet MyLink makes using the different connectivity features so much easier, including accessing your phone through the truck. Both trucks also can come with a 7-speaker Bose surround sound system, plus mobile 4G LTE WiFi for high-speed data connections from just about anywhere.
Both trucks can also be outfitted with all kinds of advanced safety systems. Among the possibilities is lane departure warning, forward collision alert, rear park assist, and the Safety Alert Seat, which vibrates in the direction of a safety threat to get your attention faster. A rearview camera comes standard on all Chevy Silverado 1500 and 2500HD models, which is nice for not hitting things when backing up, plus lining up the hitch with a trailer. There's also the OnStar system for both trucks, so calling for help is quick and easy.
Amenities
These days, many people use trucks for more than just getting things done on the worksite and playing outdoors on the weekend. They now pull double duty, hauling kids to school, doing grocery runs, and even transporting everyone on a long-distance trip to grandmas. Since people are spending more and more time in them, pickup cabs have become increasingly luxurious. These improvements are definitely present in the Silverado 1500 and Silverado 2500HD.
Like with the technical features, available amenities can be had with either truck. Among the possibilities is soft leather upholstery, heated/cooled front seats, heated steering wheel, power-adjustable pedals.
Now that you know more about the differences between the Silverado 1500 and Silverado 2500HD, contact us for a test drive of your choice.