The Chevrolet Equinox Is the Best for Manitoba Road Trips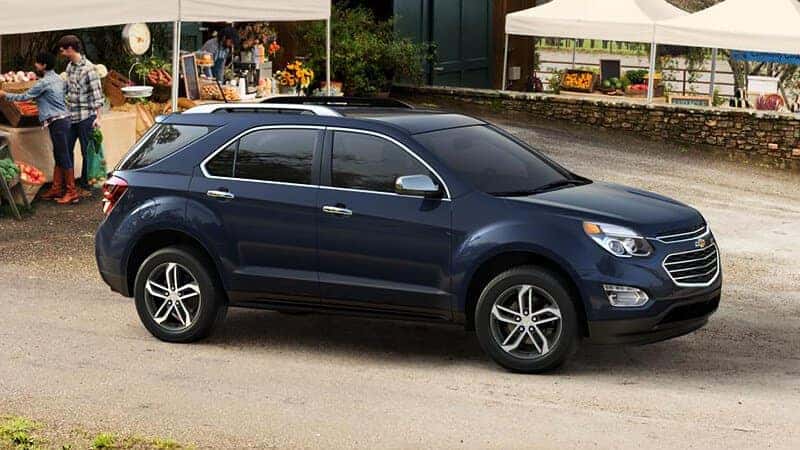 No matter where you travel to in Manitoba, the Chevrolet Equinox will take you there in style and comfort. Whether you start at the northern or southern end of the province, the Equinox has you covered.
If you start off in the southern end of Manitoba, you can head east toward Whiteshell Provincial Park. If you're starting off further north, you can begin at the waterfalls in Pisew Falls Provincial Park. Here are just some of the enjoyable places of interest you'll find while travelling this summer in your Chevy Equinox:
Caddy Lake Tunnels
At Caddy Lake in the Whiteshell Provincial Park, you'll find fantastic rock tunnels you can explore through the water. So be sure to remember to bring along your kayak!
Pinawa Suspension Bridge
Also in the Whiteshell Provincial Park, you'll find the small town of Pinawa. There you'll enjoy a beautiful swinging bridge that goes all the way across the river. Don't forget to bring your camera!
Tulabi Falls
In Nopiming Provincial Park you'll find some wicked big rocks that, if you dare, you can jump off of into the lake! It's an excellent way to take cliff jumping off of your to-do bucket list!
Pine Dock Hidden Caves
Located just a little bit south of the small town of Pine Dock you'll find the impressive tall hidden limestone caves. It's like a scene right out of Disney's Alice in Wonderland!
Steep Rock
Manitoba's only palm tree beach! Here's where you'll need to stop so you can get your toes buried in the beautiful beach sand.
Little Limestone Lake
Manitoba has the world's largest and most dramatically colour-changing marl lake! The Limestone gives the lake an amazing colour that you really need to see and enjoy.
Clearwater Lake Caves
In Clearwater Lake Provincial Park you'll find some enchanting hidden caves. Adventure through the crevices and moss that are all yours to enjoy and explore.
Wekusko Falls
In the Wekusko Falls Provincial Park, you'll find the actual Wekusko Falls. There you'll see an amazing bridge that has been built right over the falls so you can get some perfect views and pictures!
Kwasitchewan Falls
In the Pisew Falls Provincial Park, you'll find the Kwasitchewan Falls, the largest waterfall in Manitoba Province. It's a bit of a long hike to make, but well worth it to see!
Pisew Falls
Also in the Pisew Falls Provincial Park are the Pisew Falls. They are the second biggest waterfalls in Manitoba and shouldn't be missed!
No matter where you travel in Manitoba, there's one thing you can't do without a safe, reliable vehicle. The new Chevrolet Equinox offers the features and capabilities of an ideal road trip companion.
The Equinox is versatile
Take advantage of this compact SUV's versatility on your next journey! With long road trips, it's important to have a car that can go the distance. When you select the 1.5L turbo-diesel Equinox engine, you'll enjoy 40 mpg on the highway. No more frequent gas station stops for your family this year.
Don't be afraid to pack in all the luggage you like because the Chevy Equinox has
63.5 cu. ft. of maximum cargo volume. And when you select the optional roof rack cross rails, you'll have even more room.
Driving for hours on end can be exhausting, so to stay alert, you can take breaks and allow someone else to get behind the wheel. If that person is your young teenager, you can use
the teen driver feature in your Equinox to activate vehicle settings that encourage safe driving behaviour so that you can rest easy.
The Equinox's Chevrolet MyLink audio system will keep your passengers entertained with a 7" colour touchscreen. It will allow you to listen to music on the radio or stream audio via Bluetooth. Plus there's the available 4G LTE Wi-Fi that will keep everyone happy all along the way. And you'll always be free to customize this intuitive infotainment system for everyone's extra convenience.
The OnStar advantage
Every new Chevy Equinox comes with a limited trial service of our famous OnStar guidance plan. This program offers you a myriad of safety and convenience features, including road-trip friendly ones such as:
Hands-free phone calls
Roadside assistance
Turn-by-turn navigation
Vehicle Diagnostics
Let your road trip adventure begin with a unique and adventuresome Chevy Equinox! This small SUV offers purposeful, intuitive technology that keeps you connected and in touch with the things that matter to you the most.
Striking exterior features
The stunning exterior of the Chevy Equinox features aerodynamic sculpting and signature LED daytime running lamps. And inside, there's plenty of space for you, your passengers and all of the stuff you want to bring with you. Also, the dual-cockpit design features an integrated center stack, so everything is always right within your reach.
High definition audio
The availability of high-definition audio gives you a virtual overhead view of your vehicle with the available 8-inch diagonal colour touch-screen. And with multiple high-definition viewpoints, Surround Vision can help you park and avoid nearby objects during low-speed manoeuvring.
Equinox is your best choice
When summer is here, everyone is on the road again in our province. While you take the time to make a list of things to pack, Chevrolet has you covered on how to get to the summer destination of your choice. With the Chevy Equinox, road trips can be relaxing and stress-free. This is the vehicle that is known everywhere for its versatility and safety features. So, the Equinox will be a very reliable vehicle to take on your summer adventure.
Even though the Chevy Equinox has only five passenger seats, it offers an eight-way power front passenger seat. You'll be amazed to learn that it has the most rear legroom in its class. Your Equinox will feel as spacious as if you were driving an RV, but with a much more stylish twist. With its elegant exterior along with its sleek interior, you'll find the Chevy Equinox is the best vehicle for summer driving.
There are plenty of reasons why the Chevy Equinox will be your best choice for Manitoba road trips this summer. It's absolutely the best choice you'll find for road trips in Manitoba or practically anywhere else. Visit our showroom and let us show you all of the latest features of the Chevrolet Equinox. You'll find this is a beautiful vehicle that you and the whole family can enjoy on a road trip this summer.
Viking Motors
It's easy to take the worry out of buying the right car when you check with our new and used car specialists at Viking Motors. We are your locally-owned and certified Chevrolet, Buick, GMC dealer, serving drivers throughout the towns of Arborg, Gimili, Selkirk and the greater Winnipeg area. Our expert team has been providing the best in customer service and top quality vehicles since 1958.
We also have a well-connected finance center run by a qualified team of finance experts We can give you the best trade-in value for your car, and help you get the right auto loan or lease in a quick, easy, and transparent manner.
Our commitment to our customers continues well beyond the date of purchase. We also have a professional team of Chevrolet, Buick, GMC technicians on hand with the skills and equipment to handle all manner of maintenance and repairs, as well as a full stock of authentic parts.
Whether you're thinking about a new or used car, check with our experts and take a test drive at Viking Motors. We offer the most extensive assortment of both new and late-model used vehicles to provide with you a safe car for you and your family.
Make your way to Viking Motors today for quality vehicles, a friendly team, and professional service at every step of the way. And if you have any questions, you can always get in touch with us directly at (855) 549-9944.