Understanding Your Vehicle's Trade-In Value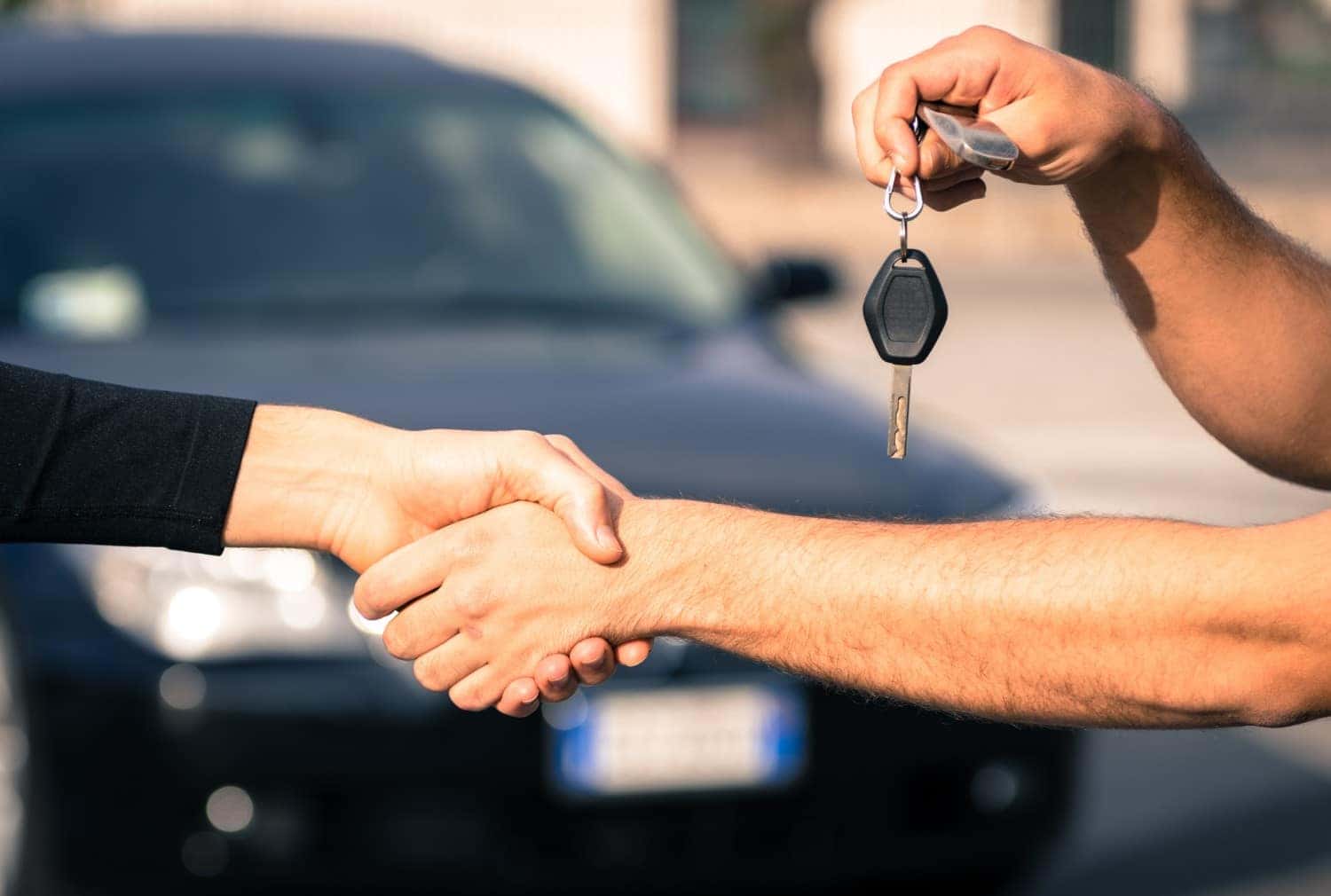 When you decide to trade in your current vehicle to a car dealership instead of to a private party, you're essentially selling your old car to the dealer. The amount you pay plus your trade-in goes toward the price of your new vehicle.
Trading in is the easiest way to buy another car. It's quick and easy. Simply tell the car salesperson at the dealership and they will take it from there. A used-car manager will test drive and appraise the value of your current car and then make you an offer as part of your car-buying transaction. If you accept the offer, you sign your old car's title over to the dealership and the deal is completed.
If you still owe money on your old car, the dealership will pay off the balance of your loan and get the title from your bank or lending institution. The resulting equity that you have in the vehicle will probably be applied as a down payment on your new purchase.
Your car's value
The most important thing to consider is that you want to make sure your car's trade-in market value is as high as possible. In order to make this happen, you need to second-guess the appraiser and cover all the bases he could possibly use to evaluate your car.
Dealerships buy vehicles at wholesale and sell them at retail. That's how they make their money. So, remember, that when you trade in your car to the dealer, you're not going to get the retail value of the car. You will actually be selling it to them at a wholesale auction price.
Values can fluctuate
These wholesale car prices aren't always fixed though. The value of your car can fluctuate because of supply and demand and other factors that the dealer finds relevant. Fortunately, with a little research, you can get a good idea of what a fair trade-in value is for your vehicle.
Start by going on the internet and checking your car's book value with some online pricing guides and appraisal tools. Check pricing information sites like The National Automobile Dealers Association (NADA), Kelley Blue Book (KBB), and Edmunds since there will be some variation between each one.
You'll need to provide the car's mileage and condition. The mileage you can't change, but the condition of your vehicle can make a world of difference in the car's value to the car dealer.
Other things will also factor into the resale value of your trade-in, including:
The time of year and time of the month
The dealer's inventory situation
Your location
Current gasoline prices
The popularity of different types of vehicles, such as SUVs and pickup trucks
The general health of the economy
Your trade-in could also command a higher price at the end of the month when the dealership is trying to make a certain quota. Being as aware as possible of these circumstances will give you the most accurate price for your trade-in and get you the best possible deal.
Most dealerships will perform a comprehensive inspection to check and see if your car has any issues. This will include repairing anything that needs fixing, cleaning and detailing your car before putting it up for sale. So, before you go to the dealership, here are some tips to have your vehicle get you the best trade-in price:
Get your paperwork in order
Be able to hand over copies of receipts that show the vehicle history and that you've taken appropriate care of your current car. This way you can prove it's had all the necessary preventative maintenance done at each service interval. Provide additional receipts on things you've done to the car like new tires and brakes. And, if the vehicle has been in an accident, be prepared to show that the proper repairs were performed. Being prepared might get you a better deal.
Clean it up
First impressions are always important, even to an experienced automobile appraiser. Make your vehicle look like you've taken care of it. Give it a good wash and vacuum out the interior so it looks clean. Use glass cleaner on the windows and special auto cleaners (not household cleaners). Use a tire shine product to make your wheels and tires clean and shiny.
If there are dents and scratches, try to fix any damage to the bodywork. Fortunately, a lot of minor issues are relatively easy to fix. A little paint or polish can take most scratches away, and dents can be fixed by most shops that specialize in painting and dent removal.
Cleaning up a modern car can mean more than just getting all of your things out of it. If there's a navigation system, be sure to clear out your home address and any destinations. Un-pair your mobile phone from the vehicle's Bluetooth connection, and make sure to wipe out your calling history.
Fix anything broken
Most dealership appraisers will have examined hundreds of cars during their career and are skilled at identifying issues that you might not notice. If they suspect there's a mechanical problem, you're not going to get the best price. If you're unsure about something, take the vehicle to a trusted mechanic and have it checked out before taking it to the dealership.
The dealership appraiser will note the how old your vehicle is, the mileage, whether you've been the only owner, and check the tires to see if they all match and have decent tread.
He will also note if the car has additional factory options and any equipment you may have added. And, of course, he will check the mechanical condition of the vehicle. If he suspects there's a problem, the price they offer will be lowered without even bothering to take it to the shop.
Neutral color cars sell the best and gather the highest trade-in prices. And, be aware that car values can be different at different points of the year. For instance, convertibles don't sell in mid-winter while 4-wheel drive SUVs command premium prices in the early winter.
The appraiser will also check whether you are underwater on your loan and what your credit score looks like. Most of the time, dealers will try their best to give you a fair offer that's generous enough to get you to buy a new car.
Trading in your old vehicle is an easy way to dispose of it and have some cash toward purchasing something new and have lower car payments. With these suggestions, we hope you'll have a better understanding of your vehicle's trade-in value and how to make it work best for you.
Viking Motors
It's easy to take the worry out of buying the right car when you check with our new and used car specialists at Viking Motors. We are your locally-owned and certified Chevrolet, Buick, GMC dealer, serving drivers throughout the towns of Arborg, Gimili, Selkirk and the greater Winnipeg area. Our expert team has been providing the best in customer service and top quality vehicles since 1958.
We also have a well-connected finance center run by a qualified team of finance experts. We can give you the best trade-in value for your car, and help you get the right auto loan or lease in a quick, easy, and transparent manner.
Our commitment to our customers continues well beyond the date of purchase. We also have a professional team of Chevrolet, Buick, GMC technicians on hand with the skills and equipment to handle all manner of maintenance and repairs, as well as a full stock of authentic parts.
Whether you're thinking about a new or used car, check with our experts and take a test drive at Viking Motors. We offer the widest assortment of both new and late-model used vehicles to provide with you a safe car for you and your family.
Make your way to Viking Motors today for quality vehicles, a friendly team, and professional service at every step of the way. And if you have any questions, you can always get in touch with us directly at (855) 549-9944.